COVID-19 has introduced a lot of uncertainty into our daily lives. However, isolating at home doesn't mean you can't still advance your career. Gain new skills and knowledge through quality training.
The Rubicon Advisory Group now offers instructor-led virtual training courses, including a number of ISACA's leading certifications. This includes ISACA's Core Four Certifications.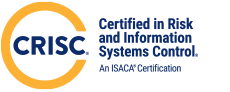 The Rubicon Advisory Group is happy to announce that we are launching our first open enrollment course. We are leading this open enrollment course with the much sought after COBIT 2019 Foundations course. The course is scheduled for May 4-6, 2020. Register here today.
The Importance of Enterprise Governance
A right-sized governance program does more than manage performance — it creates value throughout your enterprise. And while governance isn't an exciting topic, it is vital to get the most out of enterprise information and technology (I&T) — so much so that governance gets visibility at the board of directors level.
Structuring enterprise governance of information and technology can be an arduous task. It demands to evaluate everything from frameworks and standards to your compliance rules. Done properly, governance results in three key benefits to your organization: Value, Risk and Resource Optimization.
Effective governance over information and technology is critical to business success, and this new release further cements COBIT's continuing role as an important driver of innovation and business transformation.
The COBIT 2019 Foundations course is aimed at those professionals who want to clearly and effectively communicate organizational alignment of your enterprise's information and related technologies.
By partnering with The Rubicon Advisory Group you will learn from industry experts and gain the skills and knowledge you need to advance your career.
Take advantage of the current global situation and invest in your career through our online courses!